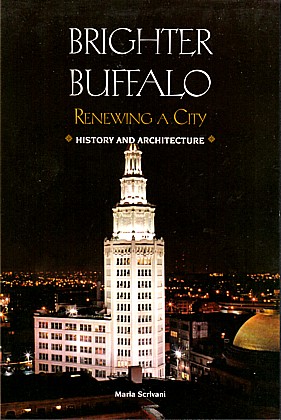 Books: by Title: Brighter Buffalo: Renewing a City
This user-friendly guide to the Queen City's most iconic sites includes some new faces in town. Using archival photos, current images, and a site map, author Maria Scrivani brings a fresh perspective to the architectural history of her hometown.
The questions she poses plague preservationists and perplexes the average citizen: how does preservation happen, and why is it important? Who are the local heroes? Can grass-roots activism really make a difference? Ultimately, Brighter Buffalo holds out the hope that a once-great city can restore itself.
Some of the sites explored in this probing book:
Broadway Market
Corpus Christi Church
Babeville
The Electric Tower
Burchfield-Penney Art Center
H.H. Richardson Complex
ISBN: 978-1-879201-64-4
$19.95