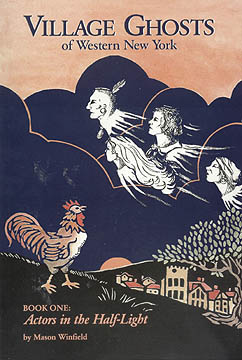 Books: by Title: Village Ghosts of Western New York
Book One: Actors In The Half-Light
The definitive study of Western New York's ghosts in the words of "supernatural historian" Mason Winfield. Guided by the insights of parapsychology and folklore and filtered through Mason's years of experience, Village Ghosts is a tribute to the hidden spiritual history of Western New York.
Winfield takes you a journey into a hidden Western New York: one populated by Seneca witches, Underground Railroad mistresses, 1812 heroes, famous boxers, lost occultists, prophetic angels, and demonic invisible playmates.
With its profile of famous personalities who return as ghosts comes a look at the psychic flora and fauna of the old Seneca Territory and introductions to its famous spirit-communicators. You may be astonished to learn that some ghosts may not be spirits at all -- possibly because some ghosts are the images of people who aren't even dead yet.
And it's not as though people have the monopoly on the spirit world. Animal ghosts and mass apparition events like phantom battles are also reported. Many of our mystery-monsters – like Bigfoot and the Loch Ness monster – could be psychic beings: ghosts.
Read about "King Number One" – the astonishing saga of a spirit-guide who came to two sons of a Buffalo policeman and went on to world-fame. Encounter "The Witch of Squakie Hill" – the strange tale of a Seneca warrior, wizard and murderer who may still haunt a Genesee Valley ridge. Or, stand up to "The Buffalo Harp" – a famous boxer who haunts Buffalo's Chippewa Strip.
Mason Winfield says: "I am not telling anyone to believe or disbelieve. I am telling everyone that the subject has value – at least if things people think and say are worth anything – and that there is a lot more to the subject of psychic phenomena than the simple matter of faith or disbelief.
"A lot of our history, culture, and even architecture goes hand in hand with our ghosts, and we can raise awareness of things we all consider valuable by commemorating our psychic folklore."
ISBN: 1-879201-55-0
$13.95