Books: by Title: Buffalo's Historic Streetcars and Buses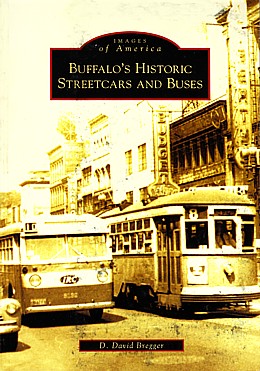 Buffalo has witnessed the evolution of mass transportation through the decades, from the International Railway Company's streetcars in 1901 to the formation of the Niagara Frontier Transit System (NFT) Metro in 1974. The Great Gorge Route, the world's most famous scenic electric railway, offered passengers unparalleled views of Niagara Falls.
By 1950, the NFT became known as one of the most progressive and profitable bus transportation networks in America. In 1985, following mergers between transport companies, streetcars were reinstated, bringing public transportation full circle.
After over a century of innovation, Buffalo's mass transportation has proven to be a lasting and venerated testament to the history of the region. Buffalo's Historic Streetcars and Buses is a tribute to the people and equipment that serviced this great city for generations.
D. David Bregger, a Buffalo area public transportation activist, began collecting historic transit materials in the 1960s. Much of the material used in this book came from the author's personal collection, including many never-before-seen photographs from the personal files of longtime NFT director of public relations Walter McCausland and the Niagara Frontier Transportation Authority's archives.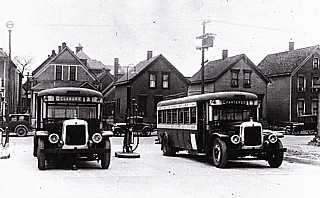 <---- (Two 500 series Yellow Coach type Z 32-passenger gas-electric transit buses stand at the fuel island at the Walden Garage and Lathrop Street sometime in 1928.)
ISBN: 978-0-7385-5750-2
$21.99