Winter In Niagara Falls
---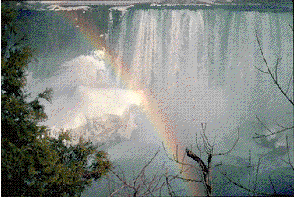 You've never seen our world-famous visitor's attraction like this! Experience the breathtaking footage of the Mighty Niagara from the U.S. and Canadian sides. Marvel at brilliant ice-crystal rainbows, ice-coated trees, and unearthly ice formations at the foot of the thundering Falls!
Also take a tour through local attractions like the world-famous Niagara Falls Aquarium, Old Fort Niagara and more. This is a relaxing, non-commercial visit to a premier international travel destination that has delighted millions of visitors from all over the world.
If you've been here, it's a wonderful souvenir! If you've never visited Niagara Falls, let this tape give you a comprehensive introduction to one of the world's best-known vacation and honeymoon spots!
Price: $19.95
(30 minutes - VHS - Minimal narration)