Books: by Title: Shadows of the Western Door: Haunted Sites and Ancient Mysteries of Upstate New York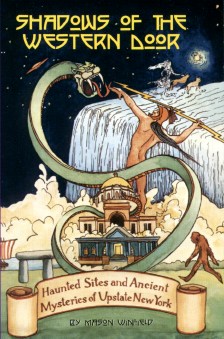 Prepare for a journey... through fact, fiction and outright puzzle down the dark lanes of upstate New York legacy.
Strewn with relics of ancient, unknown cultures and steeped in the spirits of the Iroquois, Western New York mystified its first White settlers more than any other region in North America. By the middle of the nineteenth century the area was famous as a source of psychic energy that flowered cults, communities, two major religions, and many supernatural displays.
The twentieth century shows no letup, and Shadows of the Western Door... is a study of the pattern. Guided by the insights of modern research, each of Mason Winfield's vivid, wry articles is another step on this supernatural safari across Western New York.
Readers will ponder some of these intriguing questions:

Is Western New York a `zone' for UFO's, strange beasts, occult communities, and savage hauntings?
Did human giants once roam the region?
Do the Great Lakes have their own `Bermuda Triangle?'
Is Niagara Falls a world-center of spiritual power?
Did ancient Europeans sail our rivers and lakes long before Columbus?
Colorful, provocative, and sometimes electrifying, this unique study alweays entertains. After this walk on its wilder side, Western New York will never quite look the same.
ISBN: 978-1-879201-22-4
$16.95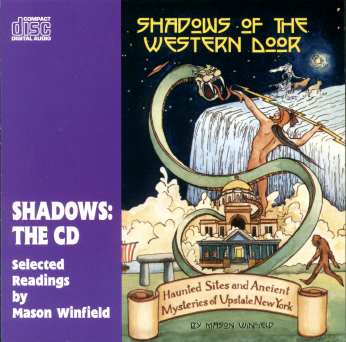 Haunted sites and ancient mysteries never sounded so intriguing! If you own the book, you should invest in "Shadows: The CD."
Listen as Mason Winfield, author of "Shadows of the Western Door," reads more than a dozen of his most popular supernatural vignettes. The riveting local tales are comiled on a high-quality compact disc that will provide years of enjoyment.
A popular speaker on the local lecture circuit, this former teacher reads the supernatural stories in a way that will ignite the theater of your mind. Listen as Winfield reads tales such as "The Grave of Jack the Ripper," "Hill of the Hellhounds," "Fort Niagara," and "Fredonia's Igoe Hall."
This 70 minute compact disc has a full-color insert.
ISBN: 1-879201-26-7
$9.95