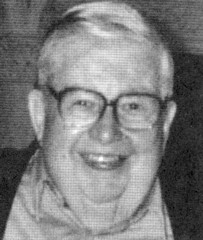 Books: By Authors: Joseph H. Radder
Remembering Old Buffalo: The Glory Years in Western New York
Remembering Old Buffalo is Joseph H. Radder's second full-length book. His first, Young Jesus, the Missing Years, was published in 2001.
Radder is a graduate of Amherst Central High School and attended the University of Buffalo where he studied advertising. He joined the William Hengerer Company as an advertising copywriter in 1941. He then served for four years as an operations sergeant in the 7th Armored Division, including non-combat duty in the European Theater of operations.
Following the war, he went to work as a copywriter for the Baldwin, Bowers, and Strachan advertising agency, where he eventually became creative director for radio and television. When BB&S was acquired by the Rumrill Company, they made him creative director for all media for the Buffalo office, and for broadcast media for the Rochester and Utica offices. He joined Comstock Advertising Inc. in 1962 and became president of that agency in 1971.
After retiring in 1980, he opened his own agency, Joseph H. Radder Marketing, which he operated for seven years. Since retiring fully from the advertising business he has devoted full time to writing, including the two books mentioned above, and a series of cover stories (profiles of prominent Western New Yorkers) for Living Prime Time magazine.
His work is also published frequently by The Buffalo News on its op-ed page. He also writes monthly pieces with a reminiscence theme for After 50 magazine.
Now 88, Radder says "I have retired twice and have no plans to do it again."