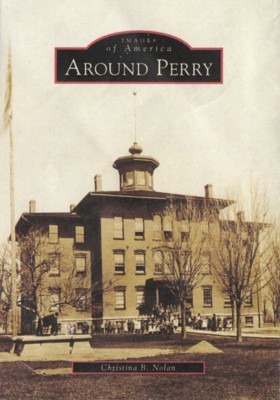 Books: by Title: Around Perry
Fertile land, waterpower, energetic residents, and a sea serpent all contributed to the growth of the town and village of Perry.
The town of Perry was first settled in 1807, and later took the name of Commodore Oliver Hazard Perry, the hero of the War of 1812. Early mills along Silver Creek provided materials for the growing village, which was incorporated in 1830.
Perry made headlines in 1855, when a sea serpent was sighted on Silver Lake and people flocked to the area. The mystery went unsolved until remains of the hoax were found in the ashes of the Walker House in 1857.
Perry continued to grow, with Main Street businesses changing with the needs of residents. Later industries replaced the early mills, and immigrants arrived to work in the textile factories. Educational, religious, and civic buildings were added to the community, and farms grew in the countryside.
Christina B. Nolan explores the fascinating history of this Wyoming County community, which once was home to a future U.S. President. Around Perry is part of the Images of America series of history books.
softcover, 128 pages.
ISBN: 978-0-7385-7291-8
$21.99