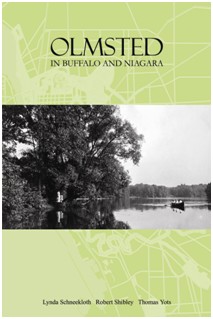 Books: by Title: Olmsted in Buffalo and Niagara
Lynda Schneekloth, Robert Shibley, Thomas Yots
Olmsted in Buffalo and Niagara is the first history and guidebook written about Frederick Law Olmsted and the remarkable urban parks he designed in Western New York at the end of the last century. He imprinted his vision of the world about the power of nature to heal and enrich urban life on both Buffalo and Niagara Falls. Olmsted gave Western New York two of his most important works, the Buffalo Olmsted Park and Parkway System, and the Niagara Reservation.
Olmsted, the Father of American Landscape Design, was brought to Buffalo in 1868 to give us a Central Park. But he, Calvert Vaux and the Olmsted Brothers left behind something much more complex and integral to the city: six parks and the greenways that connect them. This vision of a green necklace running through what Olmsted called the best planned city in America is still a vital element in park planning and is replicated throughout the world. And it started here, in Buffalo, New York!
Olmsted was a major force in the "Free Niagara" Movement that restored the landscape around Niagara Falls. The creation of the Niagara Reservation, the oldest State Park in the United States, assured to us and future generations that the Falls at Niagara, among the great treasure[s] of the world according to Olmsted, would be preserved in the picturesque condition in which it was originally laid out by the hands of nature.
108 pages; Includes a color guide to the Olmsted Parks in Buffalo and Niagara Falls.
Over 125 historic and contemporary photographs.
Published by the Urban Design Project, School of Architecture and Planning, University at Buffalo / SUNY.
ISBN: 978-1-931612-24-1
$12.95