Books: by Title: Lockport: Historic Jewel of the Erie Canal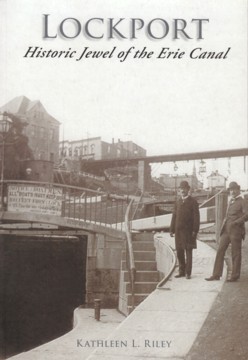 From its beginnings in the early 19th century at the site where "art triumphed over nature," when the Erie Canal's Flight of Five locks was one of the wonders of the world, Lockport burst almost overnight into a thriving community that eventually outgrew the canal that gave it life.
Building the earlier sets of locks along the canal route had presented problems of their own, most notably finding a waterproof cement that was affordable. Keeping the costs of construction down was a major concern for New York's canal commissioners, especially in the face of political opposition to the "ditch" and the repeated refrain that it was a foolhardy scheme that would burden the taxpaying citizens of New York.

The engineers in training, after considering both wooden and stone locks, finally settled on stone because it would last longer. But stone locks required hydraulic cement, which was available in Europe but prohibitively expensive to import. Canvass White, the "genius of the Erie engineers" came up with the answer to this problem. Determined to find a way to manufacture the cement in the United States, he searched first in New England, and then, by chance, discovered the solution closer to the canal itself. A gray powder of pumice or lime was found near Chittenango, and it passed the waterproofing tests.
After many years of challenge and change, the city now looks to its glorious past to ensure its future.
History professor Kathleen L. Riley has published numerous works of American historical scholarship over the last 20 years. This history of her hometown is her first general-interest book.
ISBN: 0-7385-2477-8
$24.99