Books: by Title: Kiddie Parks of the Adirondacks
Once upon a time (in 1945, actually), Lake Placid, New York, businessman Julian Reiss told his youngest daughter Patti a bedtime story, about a little bear whose adventures lead him to Santa Claus at the North Pole. Enchanted by the tale, the little girl begged to see Santa's workshop.
What's a father to do? This particular man started thinking about a place where children could visit Santa's summer home. Four years later, Santa's Workshop opened near the base of Whiteface Mountain.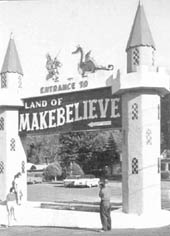 The birthplace of America's kiddie parks is in the green rolling hills of the Adirondacks. In the 1950's, a handful of distinctive and imaginative amusement parks were lovingly created in New York State. Someone in your family may recall Santa's Workshop, as well as Magic Forest, Storytown U.S.A., the Land of Make Believe, or Enchanted Forest of the Adirondacks.
These family destinations are fondly recalled by thousands and thousands of visitors, and now these clever and heartfelt attractions are preserved in this volume. More than 180 photographs trace the history of these wonderous parks from their humble beginnings to lasting traditions, as told in the happy faces of countless children.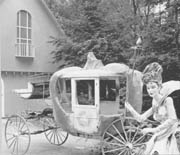 Rose Ann Hirsch has written articles and books on the topic of amusement parks, and Kiddie Parks of the Adirondacks gives her an opportunity to celebrate some of the family-owned and family-oriented getaways that have delighted children for generations -- and continue to this day.
ISBN: 0-7385-4470-1
$21.99