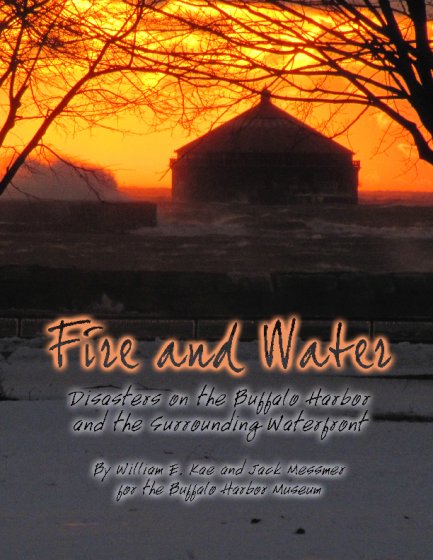 Books: by Title: Fire and Water
Disasters on the Buffalo Harbor and the Surrounding Waterfront
If you talked with a Buffalonian today about fires in the Buffalo Harbor, they might mention the Edward M. Cotter, and proudly say it's the oldest active fireboat in the world.
They might not know that at the time the boat was commissioned, it would expand Buffalo's fireboat fleet to three. That's how common fires were in those days.
Author William Kae has researched the elemental conflict between Fire and Water, as it applies to the Buffalo Harbor. There are tales of more than 45 catastrophic and near-catastrophic events on the harbor and surrounding waterfront, including:
1986 - Barge 45 is impaled on the Peace Bridge
1972 - explosion at the Pillsbury Mill
1951 - destruction of the Michigan Avenue Bridge
1940 - General Mills fire
The Gale of 1921
1900 - The Minnesota Ore Dock Disaster
Fire and Water is printed on high quality gloss paper, with 254 pages and more than 300 photos, maps, and illustrations.

ISBN: 978-0-9796632-5-3
$25.00