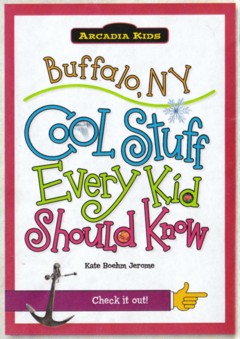 Books: by Title: Cool Stuff Every Kid Should Know
Do you know what happened in 1927 that helped Canada and the United States become even better neighbors?
Or why the Buffalo Fire Department's Engine 20 is never slowed down by traffic on city streets?
Answers to these questions and dozens of others are contained in a new book that helps children learn about the Western New York region.
Buffalo, N.Y.: Cool Stuff Every Kid Should Know includes about 100 full-color photographs. Young readers will learn about everything from Niagara Falls and local architectural icons, to the Buffalo and Erie County Botanical Gardens. The second part of this 32-page book focuses on New York State, including its lakes, mountains, monuments and museums.
softcover, 48 pages, 70 color photos.
ISBN: 978-1-4396-0069-6
$9.99