Books: by Title: Concord
It's a town that may be best known as the home of legendary football coach Glenn "Pop" Warner. Concord provides the historical overview of this Western New York community, and features a collection of rare images.
Other residents of note: Dr. Ralph Waite, the inventor of Novocain, noted songwriter Jack Yellen, who wrote the words to "Happy Days Are Here Again" and lived on a farm in Mortons Corners, and George Schuster, the man who drove the Thomas Flyer car that won the race from New York City to Paris by land.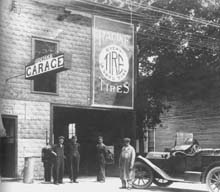 Concord also tells the story of the Peddler's Curse, and features early photographs of properties listed on the National Register of Historic Places.
The book was compiled by the Concord Historical Society, and is an effort to recapture life as it was in the late 1800's and early 1900's.
ISBN: 0-7385-1241-9
$21.99