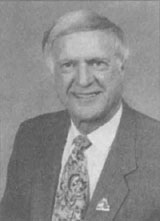 Books: by Author: Carl F. Burgwardt
Carl and his wife Clarice are native Western New Yorkers who, over the past 20+ years, have amassed one of the world's largest and most comprehensive collections of bicycles, accessories, memorabilia, literature, catalogs, photographs, and bicycling ephemera. These original bicycling artifacts show bicycles and their culture from 1817 to the present, making this a showcase of America's bicycle heritage and also exhibiting extensive locally-made machines and memorabilia. Since 1991 this collection has been exhibited in the Burgwardts' own 7,000- square-foot museum, Pedaling History Bicycle Museum, in Orchard Park, New York, USA.
Mr. Burgwardt has frequently been consulted and quoted by major media representatives seeking expert historical cycling information, identification, and documentation. The museum's resource library includes thousands of rare, original bicycle manufacturers' catalogs, photographs, historic books, and periodicals, helpful in giving definitive answers to inquiries from national, state, and local museums as well as from private collectors and researchers.
In 1996 the Burgwardts hosted the 7th International Cycle History Conference at the museum, involving presenters and attendees from nine countries. Earlier in 1996, the museum edited and published a second edition of Collecting & Restoring Antique Bicycles by G. Donald Adams, an authoritative book on the subject that is recognized as "the bible" for The Wheelmen organization and other serious collectors and restorers.
As active members of The Wheelmen, an organization devoted to the riding, collecting, restoring, and preservation of the American bicycle heritage, they have become authorities and articulate historians of the bicycle. They frequently participate in Wheelmen club activities and continue to pursue their collecting interests by finding new acquisitions to upgrade their museum collection. These activities have taken them around the world on several occasions, trips from which they bring home not only new bicycling treasures but also new friendships from many countries. These interests and experiences are often shared with visitors in the course of their visits to the museum.