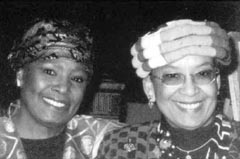 Books: by Authors: Drs. Peggy Brooks-Bertram and
Barbara Seals Nevergold
Uncrowned Queens
Uncrowned Queens II
Dr. Peggy Brooks-Bertram (pictured left) is a native of Baltimore, Maryland. She received her first doctorate from The Johns Hopkins University School of Hygiene and Public Health. She received a second doctorate in American Studies at the State University of New York at Buffalo. Dr. Bertram is the founder and CEO of Jehudi Educational Services, an independent consulting firm specializing in K-12 curriculum development, staff development, training, and conference and seminar planning. She is a specialist in grant writing and proposal development in health care, history, education, and environmental health.
Dr. Bertram is an independent scholar in African American women's history, and is a well-known lecturer and only known authority on the life and writings of Drusilla Dunjee Houston. She authored numerous editorials from 1989-1995 on the Buffalo Board of Education and other topics for The Buffalo Challenger newspaper. In addition, she is Adjunct Assistant Professor at the University at Buffalo.
She has authored several book chapters in health, specifically depression, including "Social and Psychological Aspects of Women's Health: A Diversified Perspective" in Psychiatric Issues in Women (U. Halbreich, Editor, 1997); and "African American Women: Disfigured Images in the Epidemiology of Depression" in African American Women and Health (Catherine F. Collins, Editor, 1997). Her publications on ancient African history include "The Sixth Napatan Dynasty of Kush," in Journal of African Civilizations (1994). She also is the author of five unpublished children's books in the Africa on My Stairs series and numerous other poems and essays on ancient Africa.
A native of Louisiana, Dr. Barbara A. Seals Nevergold (pictured right) moved to Buffalo, New York with her family in 1947. She completed a Bachelor of Science degree in French Education at the State University College at Buffalo and has two Master's degrees; one in French Education and one in Counseling Education from the University at Buffalo. In addition, she earned a Doctor of Philosophy degree at UB in Counseling Education. She has studied in Quebec, Canada at Laval University and in France at the University of Dijon.
She has been employed by several organizations that have served the interests of women, children, and families. Currently, she is the Director of Student Support Services at the University at Buffalo's Educational Opportunity Center. She also is an instructor at Empire State College where she teaches courses in Domestic Violence, Counseling, Marriage and Family, Human Sexuality, Cultural Diversity, Child Welfare, and Human Service Delivery Systems.
Dr. Nevergold has authored several published articles including "Fantastic Color and Special Effects: The Seals Ebony Studio" in the Spring 2002 edition of Western New York Heritage Magazine; "To Be an Instrument for Their Voices: Finding, Writing, and Sharing Family Histories in Afro-Americans" in New York Life and History (Volume 25, Number 2, July 2001); and "Transracial Adoption: In the Child's Best Interest?" in African American Women's Health and Social Issues, Catherine F. Collins, Editor.
Individually, Drs. Bertram and Nevergold have received numerous community service and educational awards. Their joint honors for the Uncrowned Queens Project include the William Wells Brown Award from the Afro-American Historical Association of the Niagara Frontier for their efforts to chronicle and preserve local African American history. The University at Buffalo honored them with both the UB Star Award (2001) for outstanding work on the Pan- American Exposition Centennial celebration and the Service Excellence Award (2002) in recognition of their work to "advance the basic mission of University Services." Drs. Bertram and Nevergold also are the recipients of the Excellence in Education Award from Xi Epsilon Omega Chapter of Alpha Kappa Alpha Sorority, Inc.; the President's Award for Community Service from the Mary B. Talbert Civic and Cultural Club; and the 2002 Community Service Award from the Buffalo Urban League. Further, the Uncrowned Queens Project was honored by the City of Buffalo and Erie County Legislature with proclamations declaring February 15, 2001, as Uncrowned Queens Day.
Drs. Nevergold and Bertram have co-authored African, Darkies and Negroes: Black Faces at the Pan American Exposition of 1901 (in press), a book on the history of African and African American involvement in the Pan American Exposition of 1901. Their goal with the Uncrowned Queens Project is to export the model nation-wide to build a network of Uncrowned Queens.