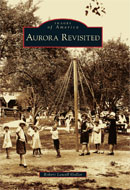 Books: by Title: Aurora Revisited
The town of Aurora was settled in 1804 and soon became a social and commercial center in Western New York. Visitors came to Aurora to get a glimpse of world-famous trotting horses at the Hamlin and Jewett farms and to see the Roycroft community of writers and craftsmen.
Aurora Revisited tells the stories of notable citizens, including the 13th US president, Millard Fillmore, who established his first law office on Main Street; Iowa governor Horace Boies; and artist Margaret Evans Price, who designed the first pull toys for her husband's company.
With more than 200 images spanning over a century, Aurora Revisited pays tribute to the men and women who sacrificed during times of war and chronicles the community's transition into a suburb that cherishes and promotes its historic roots.
Softcover, more than 200 images
ISBN: 978-0-738575-9-88
$21.99