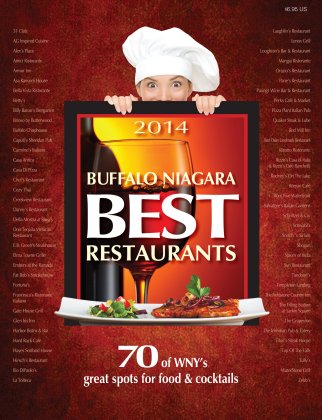 Books: by Title: Buffalo Niagara's Best Restaurants: 2014
Western New York is deeply rooted in food traditions, and the 2014 edition of Buffalo Niagara Best Restaurants casts a delectable spotlight on our culinary legacy.
The 178-page full-color guide showcases 70 restaurants that are as diverse as our region's population. Whether you're looking for that cozy Italian restaurant, a fine steakhouse or an establishment that serves up tasty Thai recipes, you will find the ideal destination in this popular guide.
What's more, the new edition contains a dozen value-added features that highlight Western New York's food legacy. There are features about cooking schools in the region, information about local food tours, an inside peek at Buffalo's craft beer resurgence and even some helping hints about dressing to dine. There is also a mouth-watering feature about restaurants that create their own desserts and a humorous profile that explores "the anatomy of a Buffalo foodie."
ISBN: 978-0-9774750-8-7
$6.95