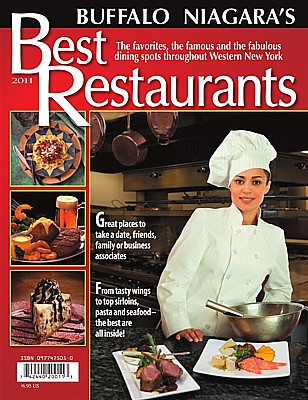 Books: by Title: Buffalo Niagara's Best Restaurants: 2011
A new restaurant guide showcases the favorites, the famous and the fabulous dining spots throughout Western New York.
Buffalo Niagara's Best Restaurants: 2011 spotlights 50 of the region's finest eating establishments. This year's edition also serves up informative articles that include:
A listing of entrees, desserts and drinks that Western New Yorkers love.
Tips for ordering interesting appetizers
Spots for a savory lunch
Heritage "links:" Sausage lovers find ties to home in local restaurants
Food-based businesses that are going artisan
Published by The Buffalo News, this full-color 82-page guide includes a user-friendly dining chart. Readers can discover at-a-glance restaurants that are considered "kid-friendly," establishments that have banquet facilities and businesses that offer entertainment.
At $6.95, Buffalo Niagara's Best Restaurants: 2011 is the perfect gift for folks who love food.
Order copies today by e-mailing us at: buffalobooks@att.net or by calling (716) 832-6088.
ISBN: 0-97747505-0
$6.95