Books: by Title: Don't Bother Knockin' -- This Town's A Rockin'
Don't Bother Knockin' ... This Town's A Rockin' chronicles the importance of national and local historical events that led to the development of the Buffalo style of traditional rhythm and blues. The "Buffalo Sound" is dirty and gritty marked by drumming shuffles and a hard driving rhythm section. The Western New York area has spawned some significant R & B players who have laid down their tracks on the national scene over the decades - Dyke and the Blazers, Donnie Elbert, Darrell Banks, Boogie woogie piano man Stan Szelest (The Band), proclaimed as representing the real spirit of Ronnie Hawkin's The Hawks. Known around the country for its drummers, Buffalo has produced session men Sandy Konikoff (Taj Mahal's The Natc'l Blues), and Gary Mallaber (Van Morrison, Steve Miller Band, Bruce Springsteen)...
... Buffalo, New York, city on the great Lake Erie - From Edwin Christy's Minstrels to Harold Arlen, up through to Donnie Elbert, Grover Washington, Ani DiFranco, Brian McKnight, 10,000 Maniacs, The Goo Goo Dolls, Buffalo has a long history of contributing music to the world. This book provides background on an important segment of that history - Rhythm and Blues.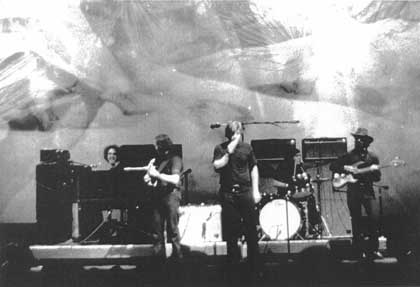 Throughout the 1950's and 1960's Buffalo was a "breakout market." Still riding the image of Queen City of the Great Lakes, Buffalo had 50,000 watt powerhouse WKBW which could be heard up and down the eastern seaboard. George "Houndog" Lorenz was broadcasting so called "Race Music" nightly, inspiring listeners and young musicians to shake it up with the real deal - Rock 'n' Roll and Rhythm and Blues in its purest form.
Early Rock 'n' Roll groups The Tune Rockers (Green Mosquito), The Quarter Notes (Record Hop Blues), and The Buffalo Rebels (Wild Weekend) played the groove on national record labels. Later R & B bands Stan and the Ravens and Raven combined their influences to produce some of the best music heard anywhere.
Authors Patti Meyer Lee and Gary Lee have been active as musicians and collectors on the Buffalo, New York, music scene. An idea they agreed to begin seven years ago has been realized with the publication of this remarkable book.
ISBN: 0-9701749-0-X
$19.95